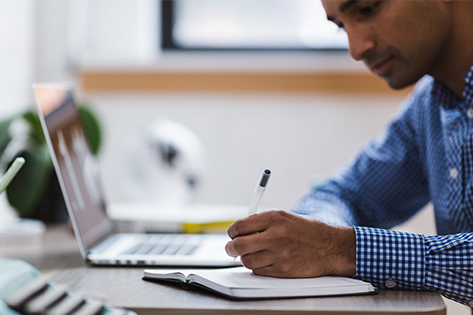 7 IMPORTANT RESUME TIPS WHEN APPLYING FOR A JOB
Employers get 1000's of resumes per job, if they are not able to decipher whether you are a potential candidate within seconds, your resume will be rejected.


 The best way to avoid disappointment is to read the job description carefully.  The below are seven common mistakes applicants make.  Be sure not to fall prey to any of the following:
The job requires 3-5 years experience and you only have one year.


Your experience does not fit the position.


Your resume shows large gaps in employment, well over a year, without an explanation, such as: volunteer work, training, etc.


Your resume is not correctly formatted; there are typos, spelling and grammatical errors.


Your resume doesn't include past achievements and accomplishments.


You have an inappropriate email address listed on your resume (ie: sexyjane @gmail.com or bobbythebully @gmail.com).


You list your job title, but not job functions.
In this competitive market, a professional resume will help increase your chances of getting a job.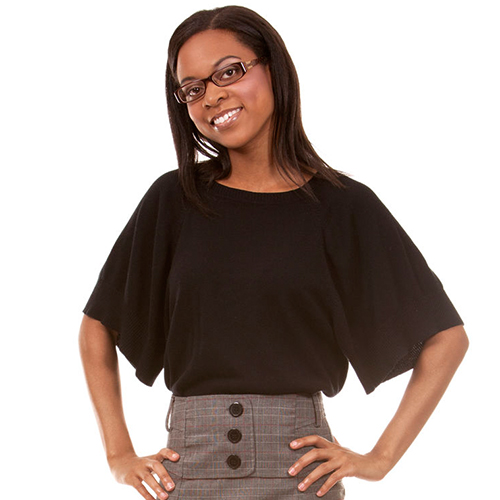 A Strong "About Me/Bio," a Professional Photograph and Well-structured Resume is Critical in Your Job Search with e-JAM.
Searching through 100's of resumes from job ads and interviewing candidates is very expensive and time consuming for an employer to do.   We are seeing more and more recruiters interested in window-shopping (or previewing a candidate's online profile) before making a decision, to view resume, or decide to interview. 
In this new climate of 'gig-economy' and freelance culture, e-JAM has recently launched an applicant preview campaign to help promote our full time and Freelance Members.  Potential employers now have the option to preview our registered applicants profile and decide beforehand who they are interested in pursuing further.
We cannot stress enough how critical a well-written "About Me/Bio" and "Professional Photograph" is, in your job search with e-JAM.  Potential employers now have the option to preview our registered applicants profile and decide beforehand who they are interested in pursuing further.
e-JAM's About Me/Bio
Upon registering on e-JAM's website, there is a section called "About Me/Bio", this section is the most important part of your online registration, along with your professional photograph.  It allows you to sell YOU and provides an opportunity to bring out your personal brand.  A great way to express who you are and what you do, plus it attracts the attention of hiring managers and recruiters much faster and makes the selection easier for e-JAM when searching our database.
We still have many registered applicants in our database with limited, or no information in the "About Me/Bio" section and/or have not submitted a photograph.  By ignoring this section, you are jeopardizing your job search.  You MUST understand this is critical in today's job market.
A Professional Photograph – Your Ultimate Brand
Submitting a professional photograph is your ultimate branding, it gives a first impression and tells a lot about you.  Therefore, be sure to choose a photograph that will get a recruiter's attention.  One that shows confidence, professionalism and someone an employer could see as a part of their team.
The Importance of a Professional Resume
Your resume is often your first and only chance to make an impression on a prospective employer, or hiring manager. Managers will often times take seconds to scan resumes to see if a candidate is the right match for the job. Your resume should be clean, clear and concise. Reflecting the skills and experience required for the position to which you are seeking.
e-JAM is designed to assist Jobseekers in the Caribbean and abroad, connect with businesses and employers looking to hire and build teams of exceptional people. We are always updating our standards based on what our research tells us works bests to serve our Candidates and Clients achieve their goals. Be sure to take a look at our Standards and Conditions to ensure that your account is up-to-date.
Please note: 
It is e-JAM's policy to prohibit personal contact information in the About Me/Bios; therefore ones that include a name, phone number, email, telephone, address, social media links or websites, will be removed.
If you need help with registering, constructing a well-written bio, creating a resume, or tips on showcasing your profile; please contact us to learn how our affordable services can get you noticed faster.
---

Details

Category: Job Hunt
Hits: 2701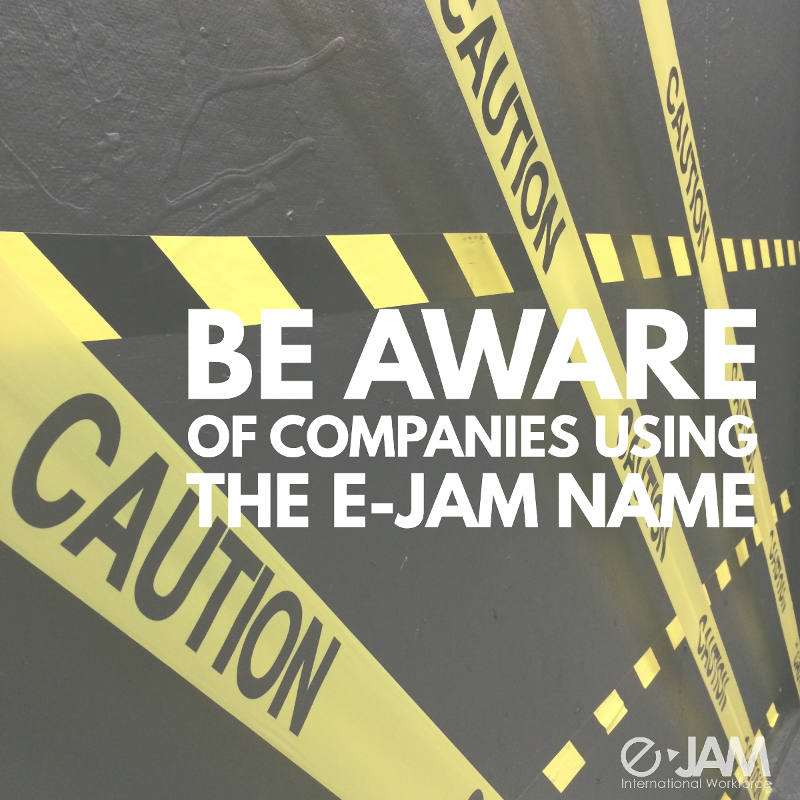 WARNING – Be Aware of Scam Companies and/or Individuals Impersonating e-JAM's Name Brand
Our company e-JAM, over the years has become one of Jamaica's leading staffing agency, with offices in Jamaica and the U.S.  Apart from servicing the local JA market, we have helped hundreds of people find jobs in the U.S. and Canada.  Many of our Canadian positions leading to permanent residency for our workers.
Unfortunately, we have discovered that there are agencies, or individuals using e-JAM's name to rob innocent people out of their hard earn money by promising them overseas employment.
Over the past year we have received numerous calls and emails from applicants to confirm payments to e-JAM for jobs that were advertised on Facebook, or via other channels.   Based on information received and in doing our own research, we have discovered that our name is being used to trick people into paying over money for the possibility of obtaining overseas employment.  The fraudsters have created fake email address similar to e-JAMs; we also discovered websites using many of the same graphics and contents
We suggest that all persons do their due diligence and research all firms or persons with whom they conduct business. Any reputable Recruiter should be willing to share their recruitment process and job details with Jobseekers.
e-JAM's DOES NOT
Recruit candidates unless we have a job order.
Conduct business with any entity who is not a legitimate Employer, or an authorized representative of the company
Accept cash payment – all payments are done either by bank deposit, transfer, or by credit card. You will never be instructed to deposit money into a personal account – our accounts are all business accounts.
Request any payments before candidates are interviewed and offered a position.
Charge applicants for H-2B jobs, all fees are paid by the Employer per US law.
Offer a job to anyone under the assumption that they can work on a tourist visa.
Work in partnership with anyone who claims to be acting on our behalf, i.e, training centres.
To avoid being scammed, we suggest that you apply only with recruitment agencies licensed by the Jamaica Ministry of Labour.  Also, do your research on Google, you will quickly find complaints from other applicants who have been burned.
Please listen to your gut feelings; don't think it can never happen to you; smart people can be vulnerable at times of desperation.  When in doubt please contact e-JAM.
Written by
Management
---
For more on avoiding fraud read our blog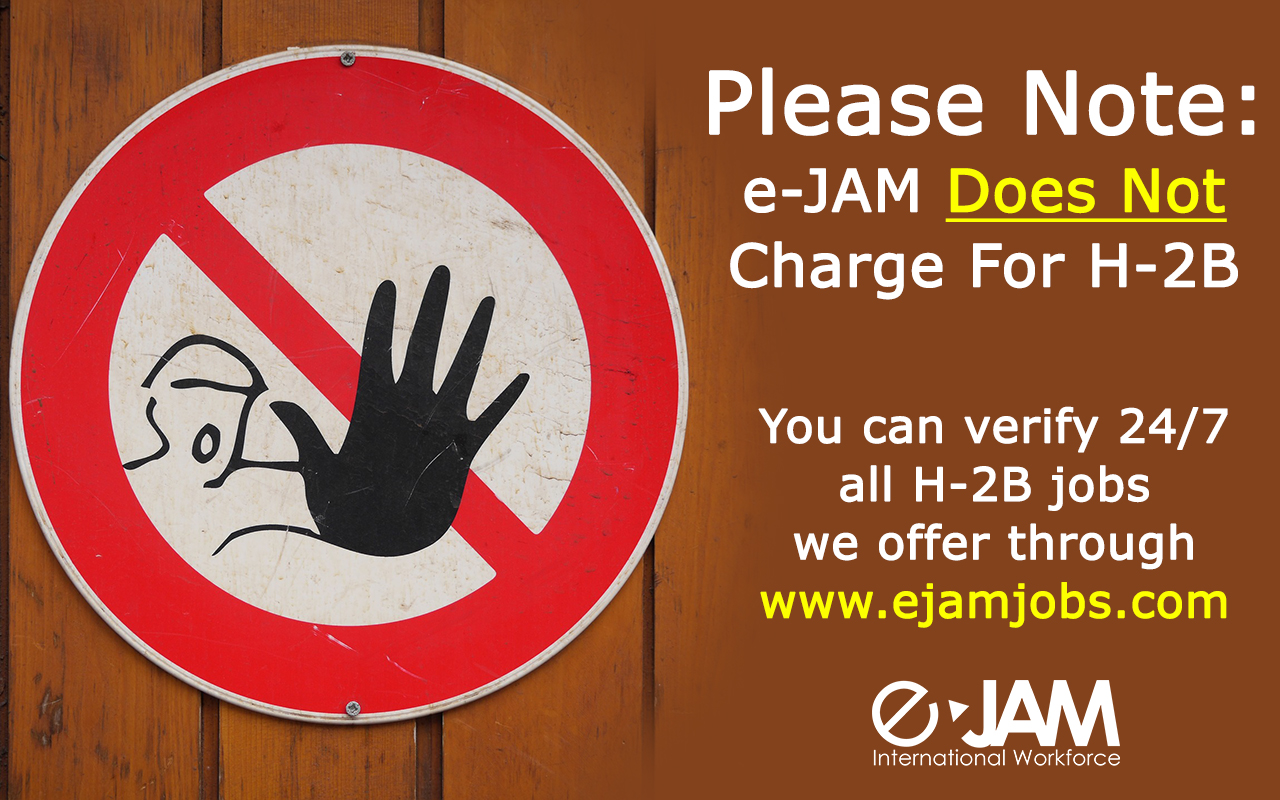 e-JAM is designed to assist Jobseekers in the Caribbean and abroad, connect with businesses and employers looking to hire and build teams of exceptional people. We combine online recruitment with the personal touch of the traditional employment agency. 
Although registering, or applying for a position with e-JAM, does not guarantee employment, we do guarantee that if you have a professional online presence, you have a better chance of being noticed by local and international employers. 
e-JAM is a private recruitment firm and businesses contact us to fulfill specific vacancies..  As such, we reserve the right to set certain standards and conditions for all Candidates seeking to gain a position through our agency.  Please read and be sure you understand the below standards and conditions policy before creating an account and seeking a placement with us.
When creating your e-JAM Profile
Create a complete profile including an up-to-date resume, clear head shot photo and proof of any certifications, or documents you may have.
Make sure to keep your profile current!
Your Resume
An up-to-date resume is required in order to be considered for any position with e-JAM.
We do not accept scanned documents, images, or resumes containing images and/or icons.
It is recommended that you keep your resume less than 5 pages long.)
Photo
Upload a clear head shot photo (File size limit- 1.5MB max, File dimension - 350 x 350)
This image should show confidence and professionalism.
Do not use a picture of a picture. If you have a camera phone, simply take a new photo of yourself.
No full body images of you posing, this is a profile for employment; show us your best face!
No Snapchat or similar type filters.
No sideways images.
Complete About Me/Bio
Write a paragraph, or more selling your personal work experience.
Please do not include personal contact details in this section (i.e. address, phone number or email.)
Any profile with these details displayed will be deactivated.
At e-JAM we review all applications and submit persons meeting the Employers specific request for consideration.
Here is how our process works
We review all applications for positions that we post.
We then forward the applications to the Employers that match the job description.
The Employer then reviews and chooses who they want to interview.
e-JAM has no control of the persons selected, that is decided by the Employer/Sponsoring company.
We then contact persons selected to schedule interviews with the Employer.
Please note that only short-listed Candidates are followed up with by the Recruiter. Due to the amount of applications we receive, we are unable to contact each person individually.
If you do not hear back from e-JAM, or our Client, you have not been selected.
For additional information please review our FAQ page and feel free to CONTACT US with further concerns.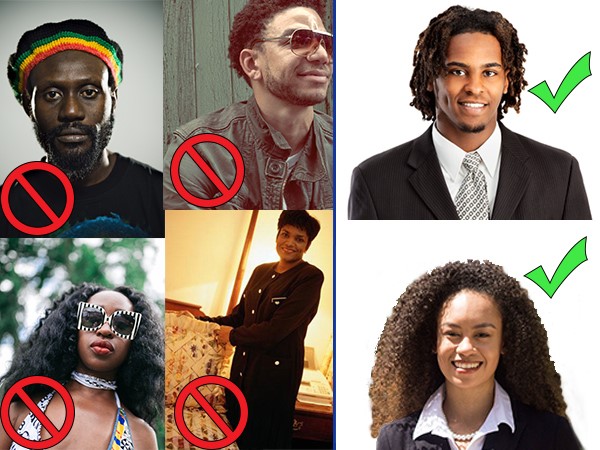 When you register and activate your account, your profile is available to prospective employers and hiring managers searching to fill roles in their organisation. e-JAMjobs is not a social media platform, uploading an unprofessional profile image may disqualify you from positions you are qualified for.
Please be mindful of the image you select for your profile and contact us if you have any questions. Check the below examples for what is and isn't a acceptable and professional e-JAM profile photo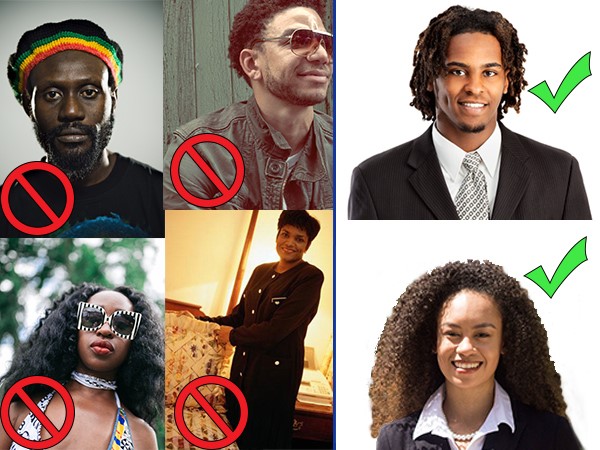 ---
For tips on how to get the best out of your e-JAM profile please visit: https://tinyurl.com/y77wqgs3

---